Itttt'ssss Frriiiddayyyy!
I totally messed up my Hawaii Life blog post this week
so it'll take me a day or two to get that figured out!
But for now, here are some highlights from my week!
| 1 |
| 2 |
| 3 |
| 4 |
| 5 |
1. I just love waking up to Nana cuddled right up next to me. She misses dad when he goes to work early in the morning.
2. I walked out my front door last night to find this massive box. I brought it inside and Paul and I ripped it open, only to find MORE boxes! (wrapped in Christmas wrapping paper). So we went crazy like small children to tear them up and find all these wonderful gifts from my mom. Then we proceeded to make WAY too much popcorn with our new popcorn maker.
It was disastrous.
3.Look at her. Seriously. Look at the lengths she goes to to be on top of pillows...
4. AND LOOK AT HER! This. Right. Here. Is my beautiful best friend. Who's coming to visit us next month. I am beyond excited.. I just can't even.. Omg.
5. "If Jesus and Bobby Flay had a baby, and that baby grew up and started barbecuing, then that baby would be my husband". That is all. (steak!)
How was your week? Link up with Lauren and let the world know!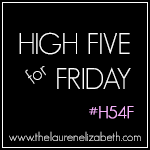 Sincerely, Montana
♥